Dorothy Richardson Project Public Workshop, 18 January 2019, New College, Oxford
2016 issue of Pilgrimages: The Journal of Dorothy Richardson Studies
Remaking the New: Modernism and Textual Scholarship conference, 13-14 July 2017
Dorothy Richardson Exhibition 19-24 September 2017, Sessions Gallery, Abingdon County Hall Museum, Abingdon, Oxfordshire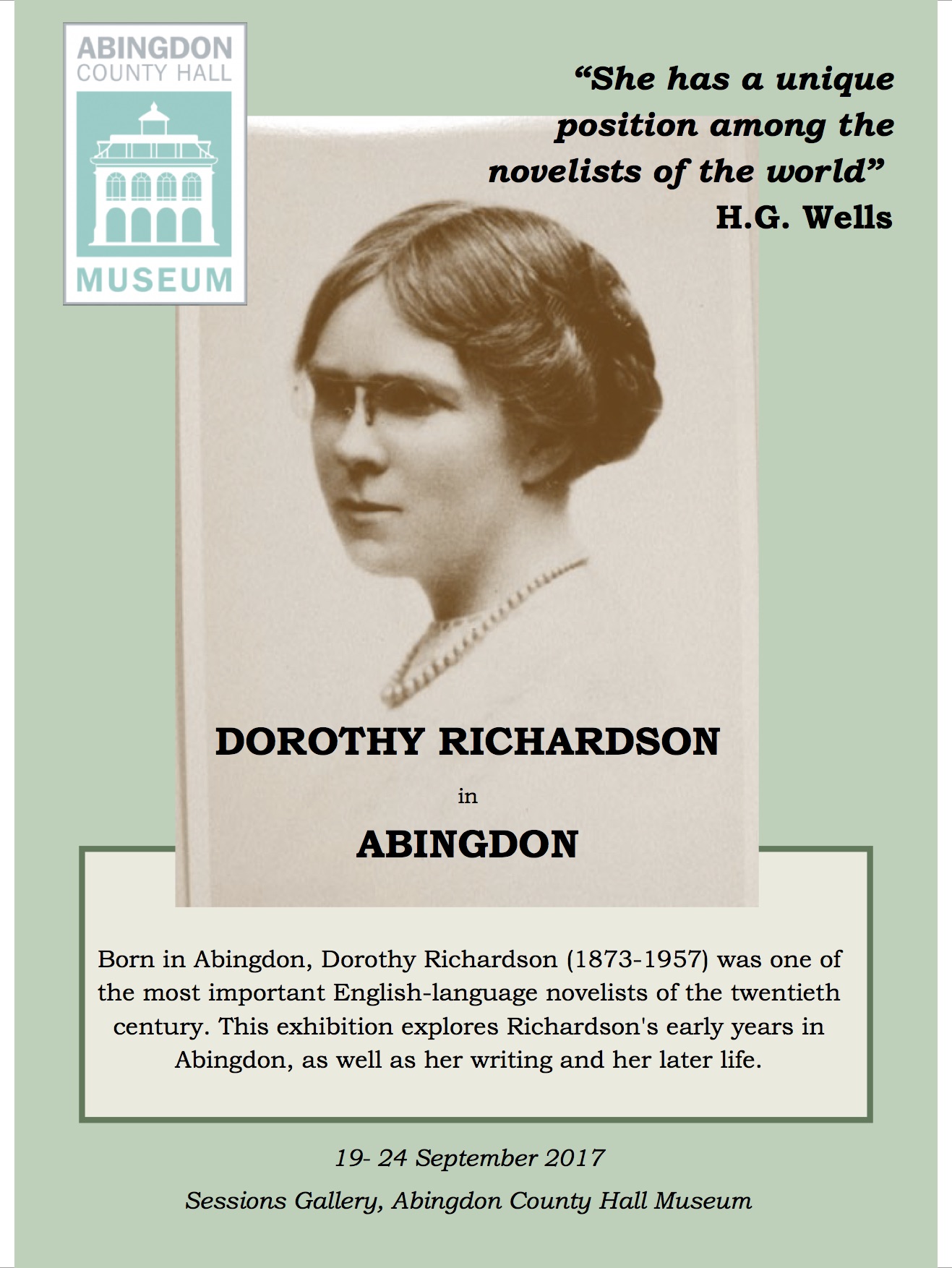 Conference on Literary Networks and Cultural Collaborations organised by Leonie Shanks and Laura Cushing-Harries at Birkbeck College, 29 October 2016. Keynote speaker Jo Winning.
A Special issue of
Modernist Cultures
on the long modernist novel edited by Scott McCracken and Jo Winning was published in October 2015
The Guardian marks the unveiling of a blue plaque for Dorothy Richardson
Pointed Roofs Centenary Event 2015
Postdoc on the Dorothy Richardson Scholarly Editions Project advertised. Deadline May 6 2016
The Times Higher marks the launch of the Dorothy Richardson Online Exhibition
The Lodger, a novel by Louisa Treger about the relationship between Dorothy Richardson and H. G. Wells was published on 14 October 2014 by Thistle Press.
Broadview editions of Pointed Roofs and The Tunnel came out in 2014.
The Dorothy Richardson Society held a conference on The Long Modernist Novel 23-24 April 2014
2 AHRC funded PhD studentships attached to the Richardson Editions Project were advertised in 2014
AHRC Funding for the Richardson Editions Project was announced in 2013
A Dorothy Richardson Day Conference was held on Monday 1 July 2013
The third biennial International Dorothy Richardson Conference took place on Friday 16 Saturday 17 September 2011
A panel organised by the Dorothy Richardson Society at the Louiseville Conference on Literature and Culture since 1900 took place on Friday 19 February 2010
A Day Conference on Pointed Roofs organised by the Dorothy Richardson Society took place on Wednesday 8 July 2009 at Birkbeck College, University of London.
Dorothy Richardson: a half-centenary international conference took place in London on 11-12 September 2007. The Dorothy Richardson Society was founded in 2007
Download George H. Thomson's Calendar of Dorothy Richardson's Letters